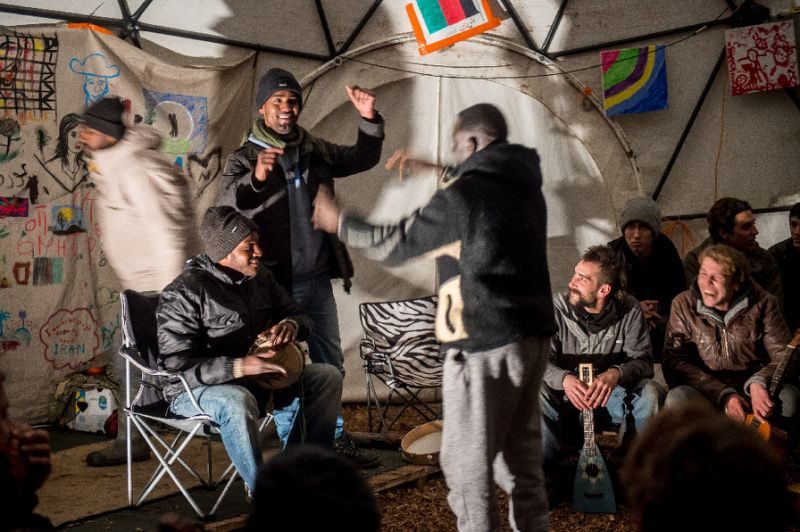 Music in the Good Chance theatre dome in the Calais Jungle. AFP Photo/Philippe Huguen via www.yahoo.com
From 2015 to 2016, a refugee camp known as the Calais Jungle grew up outside the French port town in a old landfill site, hosting up to 10,000 people from countries from Somalia and Libya and beyond: the result of a world in conflict and an augury of more to come. 
The Jungle may have been dismantled – in September 2016, its inhabitants ferried away into reception centres or, in some cases, sleeping rough in woods in Northern France – but one of its legacies lives on, in the work of Good Chance Theatre.
Good Chance was born in 2015, when two British playwrights, Joe Robertson and Joe Murphy, spurred on by reports of the camp in the news, decided to see the reality for themselves. 
Speaking on a film for the Index on Censorship Awards 2016 Arts, Robertson said: "There were people jumping on lorries and trains, footage of chaos. We went, because we wanted to see if it were true, with a sense that it couldn't be exactly like that."
The conditions in the camp – sodden tents, queues for basic facilities, stories of loss and trauma, violence and anger – inspired the writers to create a place, a theatre, in which people could either escape or confront the situations they were in through creative expression. With the support of the Young Vic, the National and the Royal Court Theatres, and a host of volunteers, Robertson and Murphy built an 11m geodesic dome, its distinctive white curve now a compelling symbol of the theatre's work.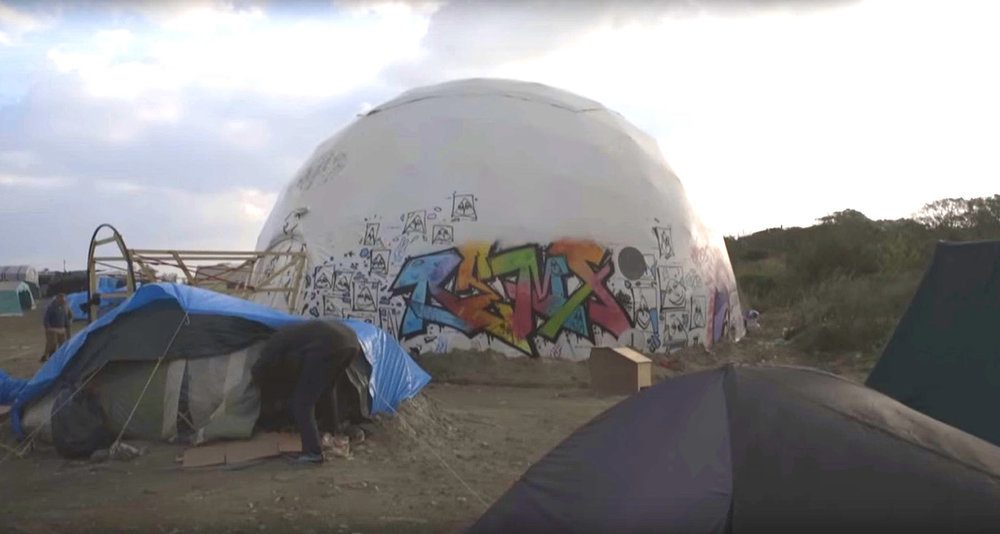 "So many people [came] together to fill this geodesic dome with joy and expression amid the chaos and the horrors of this place."
As life in the camp went on, a programme of work incorporating music, poetry and performing, painting and writing, filled the tent, quite literally with light and laughter. Each Saturday, 'Hope Shows', compilations of work made through the previous week, would play to rapt audiences of up to 250 people, creating moments of wit and humanity in the place Human Rights Watch once described as a "a living hell." 
British director Stephen Daldry and actors Jude Law and Toby Jones, amongst others, came to visit. "We've had hundreds of volunteers and amazing artists form the UK and the whole world, visiting companies who've dedicated time, resources, money, advice," says Robertson. "So many people have come together to fill this geodesic dome with joy and expression amid the chaos and the horrors of this place."
In a chaotic world, the ability of the arts to re humanise – as in, to remind us of the humanity of – the disaffected has never seemed so important.
"I've been coming here for the last two months," said one young male refugee. "I've learnt many things, about different cultures, different religions. We spent lots of good times here.."
"Food and water are important for life. [Good Chance], we hope, affects the life itself and allows it to be better, more varied, more surprising," adds Robertson.
Now, the two Joes bring Calais to the Young Vic with their play The Jungle, a co-production with the National Theatre directed by Daldry, in which a refugee meets a well-meaning volunteer – and cultural, spiritual and physical worlds collide. Refugees appear alongside actors in what is a timely, moving, robust piece of theatre. Ten per cent of ticket sales will be reserved for refugees to see the play.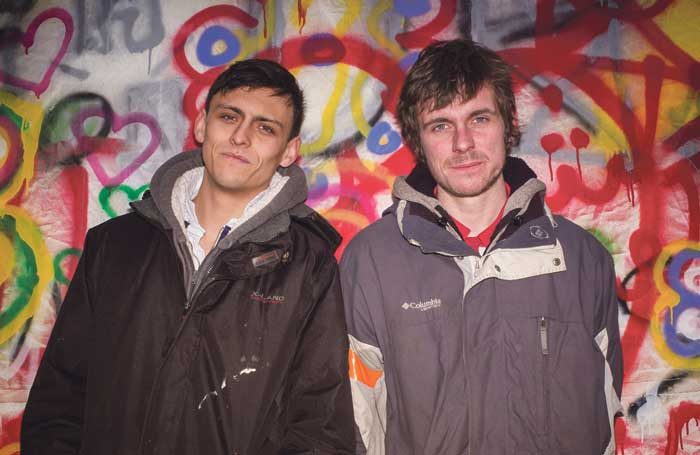 Joe Robertson and Joe Murphy of Good Chance Theatre. Photo: Sarah Lee.
"The play is obviously about many things, but the main thing was about hope," Murphy told The Stage earlier this year. "It is about the difficulties that arise when we try and help different kinds of people."
Robertson added: "There couldn't be a place that is more divisive and polarised than the Jungle. We all think we know something about it, whether that is the terrible conditions or something else. In the seven months we lived there, we saw a different side: volunteers coming together and building something, the structures of a society forming."
That society may have ended, at its very dawn, with French riot police, tear gas and fires, but – as Trump pulls out of the UN global compact on migration and the number of people driven from their lands by climate change is predicted to rise – more Jungles will spring up and the number of those without homes increases.
If that is the case, then the full sense of humanity nurtured and given expression by Good Chance will be needed more than ever.