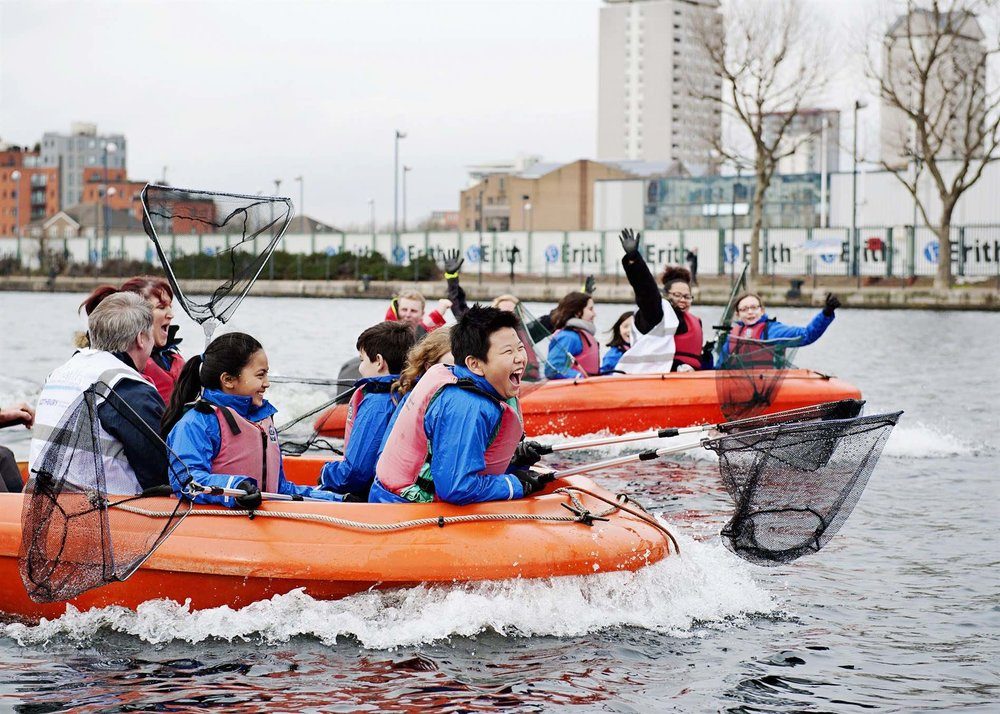 The Poly-Mer was developed after Restorick came across a Docklands school fishing for plastic. Picture: Hubbub.
Meander the canals of East London and you may come across a small punt filled with laughing school children. The punt will be the Poly-Mer, the world's first recycled plastic boat. And the children? They'll be fishing for plastic, scooping waste out of the water to create another punt just like this one. 
The Poly-Mer is a project by Hubbub, a London-based environmental charity that puts forward lively, meaningful campaigns for ordinary. Founded in 2014 by Trewin Restorick, Heather Poore and Gavin Ellis, the foundation was born out of frustration. "The science was getting worse around climate change, the droughts, the floods," says Restorick. "We thought, we're sleepwalking into a crisis and the public are either apathetic or actively hostile, particularly towards climate change."
Determined to find new ways to rouse interest, the team started with what people were invested in: their food, their clothes, their homes and their neighbourhoods – the defining elements of everyday lives. "What we try and do is flip conversations so we can talk about the environmental impact of those things," says Restorick. "We looked at who was actually talking to the public. Companies were doing it but people didn't trust them. Government wasn't doing anything. NGOS were either talking in an abstract language or there was a lot of unengaging clicktivism."
Hubbub is a London-based environmental charity that puts forward lively, meaningful campaigns for a mainstream audience.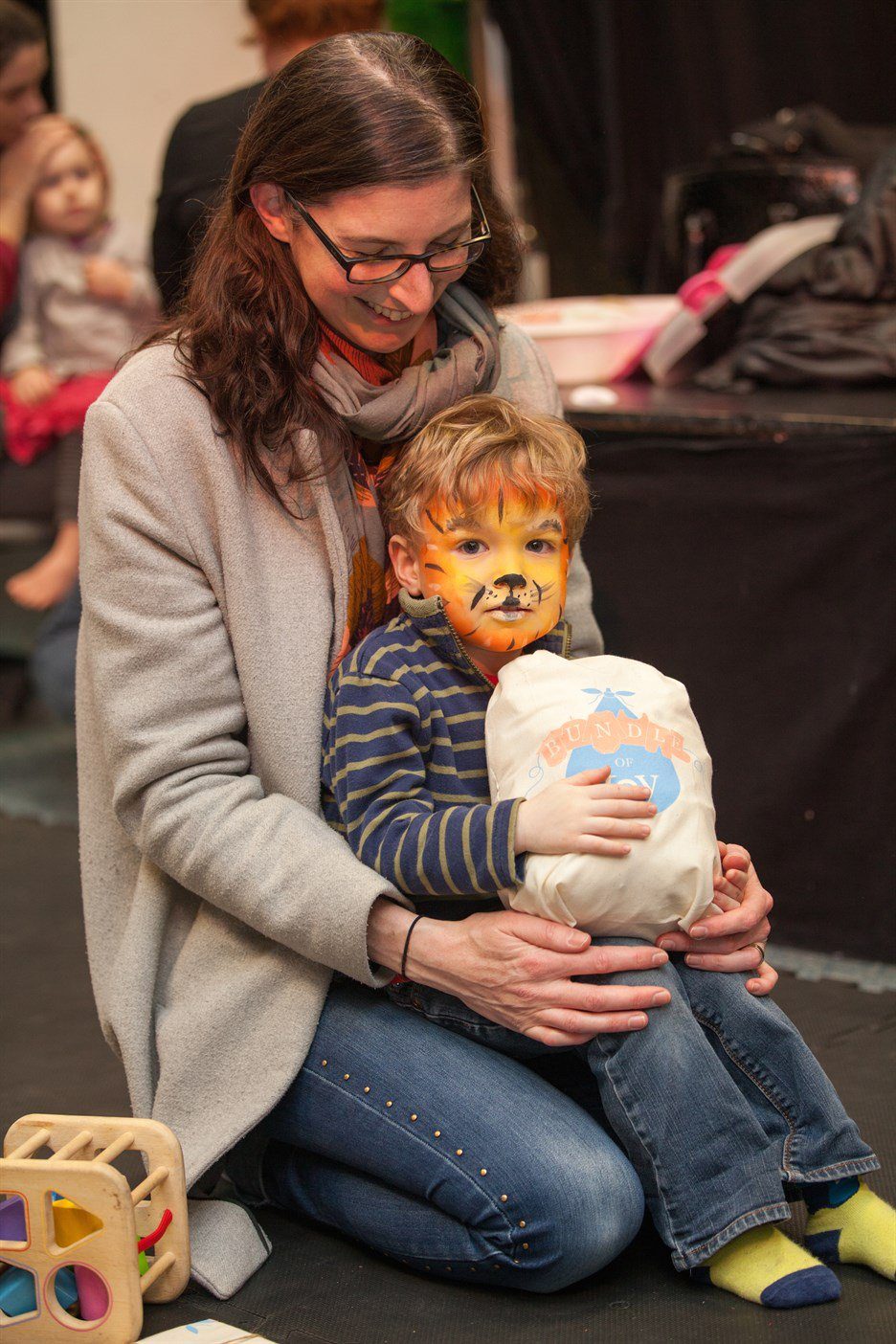 The Gift a Bundle campaign asks parents to pass outgrown kids clothing onto local groups. Picture: Hubbub.
Instead of dwelling on doom and gloom, Hubbub's MO is fresh and fun and, above all, practical, giving ordinary people real ways to see results. Visit the site or surf the YouTube channel and you'll find tons of tips to take you smoothly to a greener lifestyle: from freezing food and checking water usage to cutting back on food waste. 
And then there are the campaigns, such as Gift a Bundle, in association with Mothercare, which asks parents to pass outgrown kids' clothing onto local groups. Or last year's Bring Back Heavy Metal, which encouraged households to recycle the 178 million batteries currently hoarded in UK homes with a tongue-in-cheek campaign. Actions once deemed a bit boring and pointless are given new energy and relevance in the battle for a better world.
Collaboration is key to the foundation's approach. "A small environmental charity can't change the world on its own," says Restorick. So they team up. Take the #SquareMileChallenge, a collaboration between all the high street coffee retailers including Costa, Starbucks, Pret and McDonalds to tackle coffee cup recycling in the City. So far, the scheme has recycled over 3 million cups. 
"The only way it could have worked is if all the retailers came together and if a local authority and a waste company got involved," says Restorick. "The solutions have to be collaborative because one person on their own couldn't do it."
Partnering up with corporates has proved particularly fruitful. "[Companies] have high expectations about what's going to be delivered and they're worried about reputational risks," says Restorick. "They also understand the scale of things; they constantly ask 'how do we make this bigger?' That's a good discipline for a charity. [Partnership] is also important from a creative point of view. If you work with people from different cultures, they ask different questions and force you to step outside your comfort zone."
Instead of dwelling on doom and gloom, Hubbub's MO is fresh and fun and, above all, practical, giving ordinary people real ways to see results.
The team is run according to a structure Restorick refers to as 'Batman and Robin', in which alternate members head projects while the others support them. It means that multiple projects, both short and long term, run alongside each other and that the team of just 17 achieve a lot.
Ideas came about organically. "Bright Friday followed research that showed most people feel Black Friday is an imposition from the US," says Restorick. "Other campaigns arise when a group of companies come together and say 'We really want to address this. What can we do?'"
And the PolyMer? That developed after Restorick came across a Docklands school that had taken their students fishing for plastic around Canary Wharf. "I couldn't believe the amount of plastic there was so we decided to build a boat using what we found." A nine month journey took the team up to Scotland, to a factory that turned the plastic into planks, and then back down to Richmond, to master boatbuilder Mark Edwards MBE who built the Royal Barge Gloriana – and the Poly-Mer.
"It's a very old design," says Restorick, proudly. The boat is now used by kids and companies; the aim is to build a flotilla. '[The project] is good because it educates about the impact of plastics in the water, cleans the water and shows plastic has a value," says Restorick.
Founder of Global Action Plan Restorick has a long pedigree in environmentalism. But this is a different world. "It's completely changed," he agrees. "Businesses realise they have to do something because it's starting to hit their core activity; Coca Cola, for example, knows it needs to save the water because it's part of their product. And the policy environment has gone really weird for them. There's the sugar tax, the carrier bag charge. They're more vulnerable and they need to get back on the front foot.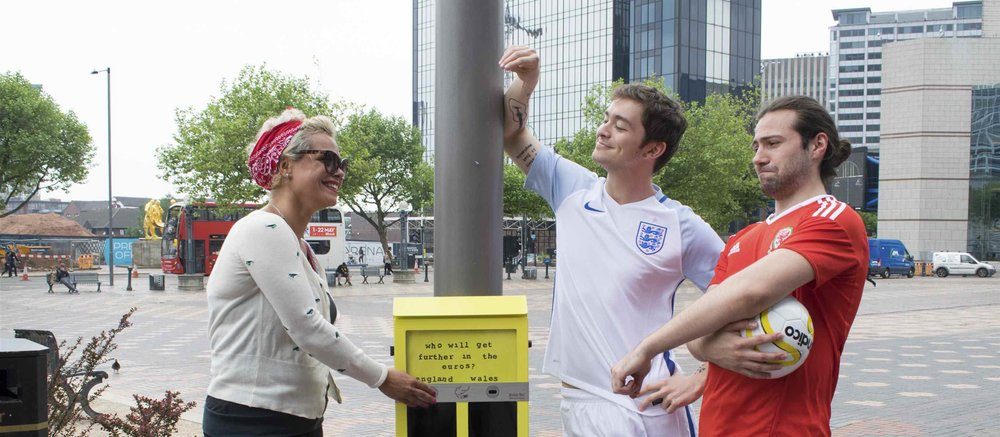 Heated debate: the Ballot Box gets people to vote on key issues with their butts (pun intended). Picture: Hubbub.
Social media has been a game-changer: "It's opened up scrutiny of businesses. A company puts a foot wrong, they're called out really quickly. That's the other thing. I don't think businesses really understand what's happening with their consumers. And that's not a good place for business."
We talk briefly about the surge of interest in plant-based foods. "The consumption of red meat is plummeting. Tesco said their fastest growing range last year were readymade vegetarian meals. Who would have guessed that two years ago?"
The reason for this, argues Restorick, is the multiple impact of the meat industry: on human health, on the environment, on the tragic lives and deaths of the animals involved. "The best campaigns bring together social, environmental and financial concerns," he reflects. 
But what makes Hubbub really stand out from the crowd is its culture of sharing. "Right at the beginning, we said, the issue was more important than the organisation," emphasises Restorick. "We didn't care if nobody had heard of us but, if people were inspired by what we did, that was fantastic. So we give it away. We tell people what worked, what didn't work and then let them get on with it."
Collaboration is key to the foundation's approach.
It's a 180 degree turn from the way most charities operate. "Membership-driven groups protect their membership because they're the financial lifeline. They're not willing to share campaign information. So, although you've got a million people signed up to various groups, the impact isn't as great as it could be."
Hubbub's approach was tested recently, however, when the city of Boston nicked the idea of the Ballot Bin, a concept pioneered by Hubbub in which smokers were encouraged to throw butts in a 'voting' ash-tray.
Then, Boston 'pinched' the idea. "We were like,  'how dare they?'" laughs Restorick. "And then we thought, actually, we could never have put a load of Ballot Bins into Boston. So, that's a huge success and we should celebrate that and get on with other stuff." 
Today, from Poland to Boston, Arkansas to Iceland, hundreds of Ballot Bins are nudging people to chuck their butts the right way. Issues smokers can vote on range from "Would you rather fight 100 duck-sized horses or one horse-sized duck?" to "Who is your favourite Trainspotting character – Begbie or Renton?" Fun but anything but frivolous: the Ballot Bin has been proven to cut litter by up to 46 per cent. Like I said, results.