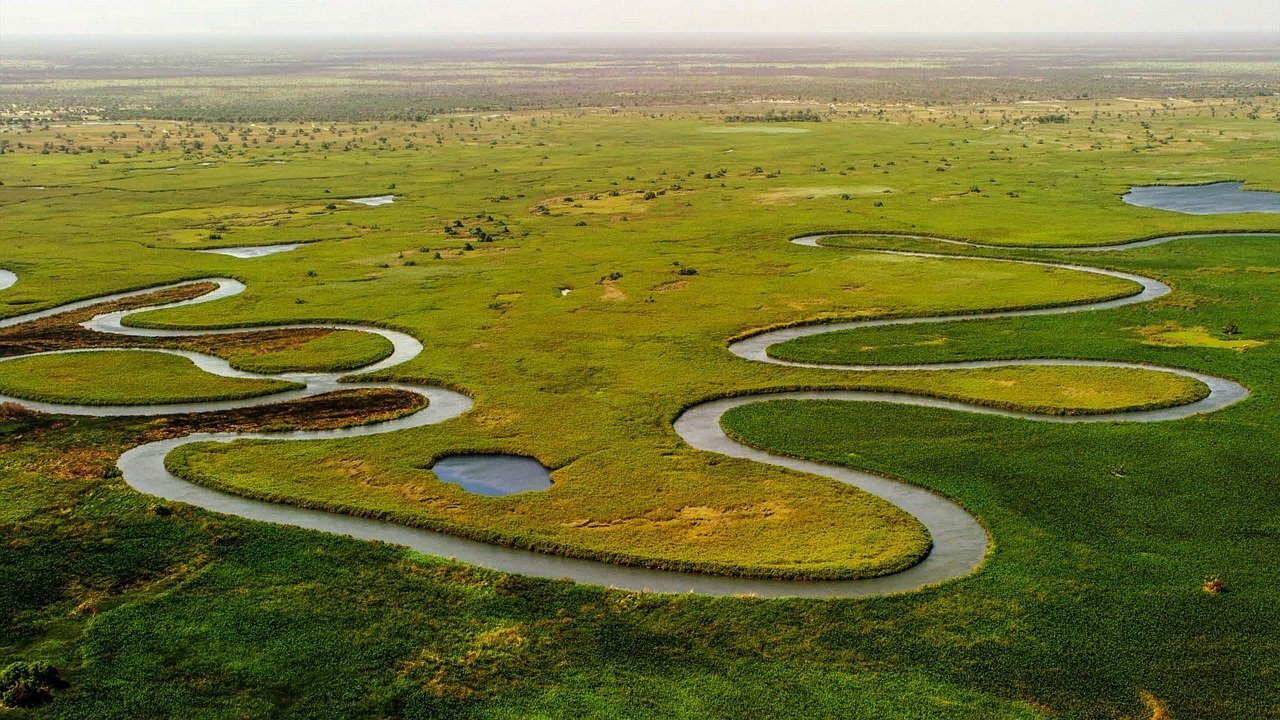 The Okavango Delta, one of the planet's most diverse ecosystems, is under threat from fossil fuel interests.
Into the Okavango is a National Geographic documentary following conservation biologist Steve Boyes and a team of international scientists, photographers, filmmakers, and African guides as they travel down the Okavango Delta's source rivers, capturing scenes from a land of almost painfully extraordinary beauty, a Paradise on Earth. The Delta, a UNESCO World Heritage site and one of the planet's most diverse ecosystems, is already under threat from the effects of the climate emergency; now, it is under threat from another kind of human intervention.
Last December, Canadian oil and gas company ReconAfrica started digging alongside the Kavango River, drilling deep beneath the Kalahari of Northern Namibia and Botswana in the hunt for a petroleum reservoir. If ReconAfrica finds oil, "then the ultimate goal is to drill "hundreds of wells" in the area and open at least some of them using "modern frac stimulations," a reference to fracking, the controversial practice where underground shale is injected with high-pressure fluid to crack open the rock and release oil and gas."
The implication are horrendous: for the wildlife there but also as a betrayal of Indigenous land rights in the Okavango region. And, in a time of a climate emergency, when we should be drastically reducing our dependence on fossil fuels, prospecting for oil is grotesque, rendering any commitment to the climate on the behalf of the governments involved – including Canada – utterly meaningless. Fridays For Future Digital, Climate Strike Canada and Extinction Rebellion Africa groups have banded together to speak out against ths project, launching with an open letter to the governments of the world to block ReconAfrica from fracking and drilling in the Okavango Delta. Add your signature here.
To whom it may concern RE: Oil and petroleum explorations in Kavango East and West

We, a coalition of concerned Namibians, Batswana and global citizens, wish to stop the proposed oil and petroleum explorations and the possibility of hydraulic fracturing (fracking) in Kavango East and West and neighbouring Botswana by the Canadian company Reconnaissance Africa (RECON AFRICA). Namibia was the first country to include environmental protections in its constitution, and signed the Paris Climate Agreement along with Canada and Botswana. Namibia already draws financial resources from the Green Climate Fund to compensate for climate related charges. Allowing more oil drilling and fracking will only increase the amount of funds needed in compensation. Namibia is also a signatory to the Convention on Biological Diversity. In spite of these international obligations and commitments, the Namibian Government has granted a petroleum-prospecting license for oil and gas explorations to a Canadian registered junior oil and gas company, RECON AFRICA, who bought rights from Namibia and Botswana to drill over 35 000 km2 in the environmentally sensitive Okavango basin. Fracking in the Okavango Delta violated every treaty that Namibia and Canada have ever signed.History shows us that oil and gas companies are driven by economic incentives without concern for long-term impacts, or how they undermine climate and human development goals. What is particularly concerning to us is that the marketing material of Recon Africa makes implicit reference to fracking – e.g. "unconventional play", "unconventional methods", etc. These are industry codes for fracking. And while the EIA makes no mention of fracking, key players in the management team and board of Recon Africa are linked to fracking in the US and beyond. We know what they are after.The park within the exploration site has received enormous donor funds from foreign governments and donor organisations. The prospecting area in Namibia and Botswana borders three National Parks, the Okavango River and the Panhandle, which supply water to the unique Okavango Delta, a UNESCO World Heritage Site. The prospecting area also overlaps with another UNESCO World Heritage Site, the Tsodilo Hills, revered amongst the First Nations San community who live nearby in one of their last refuges. What we have heard from the Namibian government, Recon Africa and the EIA practitioner is that these oil and gas explorations will bring social development, jobs and opportunities to the country. Experiences from elsewhere in the world paint a different picture. The proposed resource distribution smacks of neo-colonialism. It is clear that the people of Namibia and Botswana will not benefit here, instead it will be millionaire CEOs in Canada.

It is absolutely shocking how little the Namibian public knows about this huge project and the impacts it will have. We have spoken to affected parties across Kavango East and West including those living near the drill sites. None of them, including resident San peoples, had been consulted before the start of this project. If this was legal, they wouldn't have had to hide it.
We are deeply concerned about the anticipated and historically documented impacts of oil and gas explorations in environmentally sensitive ecosystems, which include:
• depletion and pollution of restricted water resources (surface and aquifer) • drilling onshore requires clearing the area of vegetation thus causing deforestation and desertification • rising noise level rises from drilling (and potentially fracking), which impact people and wildlife • poaching may increase • air pollution which leads to health issues • seismic activities including earthquakes may persist long after drilling There are extensive negative and long-term impacts to the environment, Indigenous communities, and the tourism industry. Where there is oil, there is unrest! Keep the oil in the ground. To the Namibian, Batswana and Canadian and US Governments: We would appreciate a public response that clearly lays out how the government will protect our environment, people, wildlife, water resources, archaeological sites, farms and protected areas. As we have seen a lack of action from governments, we have decided to raise money to become major stakeholders in the Delta, and make sure to keep it safe and governed by its people. We will communicate the details of the fundraiser as soon as it is set up. Your contribution will be very much appreciated. We have thousands of people signing petitions and striking this dumpster fire of a project. We ask of the governments to honour the international treaties and laws that they have signed and agreed to, for the purpose of protecting the Okavango Delta. We wish to hold the US accountable based on the H.R.4819 – DELTA Act. We demand that Canada takes action against ReconAfrica in many ways, like revocation of liscsing, increases taxes. It is shocking that these governments have forgotten about signing the Convention Concerning the Protection of the World Cultural and Natural Heritage, of which the Delta falls under. If nothing we have said persuades you to do what is just, The Okavango Delta is a World Heritage Site, and it would be highly illegal to destroy it.They promised, and then broke their promise. We demand a complete, utter and urgent stop to ReconAfrica and their projects in the Okavango Delta and Kavango Basin. Following that, give the peoples of the delta compensation, resources and green alternatives. Silencing us would speak for itself! #frackrotYours faithfully, ~Fridays For Future Digital~Climate Strike Canada~Extinction Rebellion Africa groups.
# SavetheOkavangoDelta
We need to find new ways of living on a damaged planet. Here's how.